Chorlton Beer Festival – July 4th & 5th
What goes great with beer? Barbecue! We are at Chorlton Beer Festival, held annually at St Clement Church, come on down for a fantastic selection of beers, and a pulled pork sandwich from Yours Truly.
Camp & Furnace Friday Food Slam -July 11th
Camp & Furnace, Liverpool
Belgrave Music Hall Street Feast – Leeds – July 12th
We're off to sunny Leeds, to a regular and fantastic night of food and beers, come on down!
Blackthorn Music Festival – 25th to 27th July
We are really excited about Blackthorn, a cracking and unique festival that takes place just outside south Manchester, in the stunning setting of Blackthorn farm. There's a quary, a water fall, hills and fields, the place is really quite beautiful – so much so you can't believe it's so close to Manchester. If you've got the weekend free, we highly recommend going. Unlike most other festivals, this one does not require bankruptcy to attend, and we'll be there, with the BBQ, the smoker, and some tents, selling great food along with Streatza and Chaat Cart, to all the wise festival goers.
The farm is just outside Compstall, Stockport.
The British Street Food Awards:
Northern Heat – Sat 14th June
Hosted by Guerrilla Eats, at Old Granada Studios, we there along with 19 other traders, all competing to win entry to the street food awards final! Come on down for a cracking day where they'll be more types of food on offer than you can shake a stick at, and you can vote for your favourite.
Grillstock Manchester 2014 – 28th & 29th June
Albert Square (outside the town hall) will be packed for a 2 day food festival, featuring the best in super meat! We of course will be there, and rocking our new smoker, to try and take the crown as the best
Altrincham Market – 11th May
We're at Alty Market on the Sunday, serving up BBQ treats. Come down to browse the many excellent stalls selling all sorts, and grab a BBQ sandwich while you're there.
Guerrilla Eats Street Food Party! – 17th May
The Gorilla is back – check it out.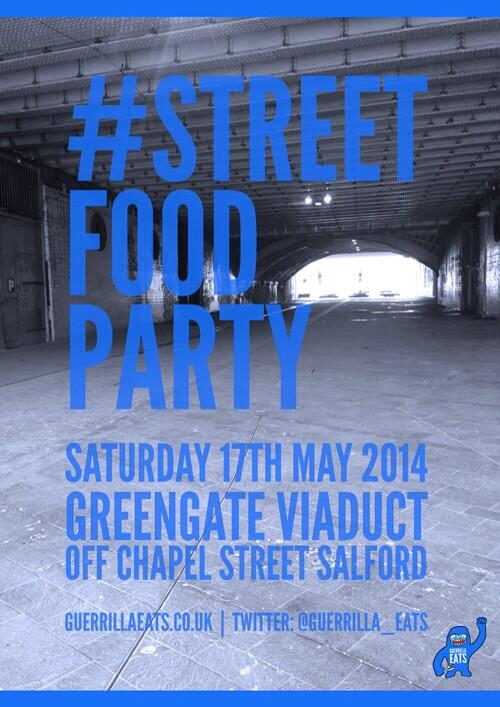 23rd May – Camp & Furnace Friday Food Slam
Camp & Furnace, Liverpool
Lowry Outlet food festival – 24th to 26th May
This one will be a cracker, packed with tasty treats and featuring our brand new smoker trailer!
Lowry Centre Garden Party – 12th-14th April
http://www.ticketline.co.uk/lowry-outlet-garden-party#bio
The first outing of our smoker will be here at the Lowry Garden Party. Three days of BBQ and our stall will feature our new shiny smoker – she's going to be a beauty.
18th April – Camp & Furnace Friday Food Slam
Camp & Furnace, Liverpool
http://www.campandfurnace.com/2013/04/food-slam-fridays/
Urban Market Foodie – Old Granada Studios – 19th April
Granada studios is well on its way through a transformation into an exciting food, drink and entertainment location – and we'll be there at one of the first Urban Market Foodies, coz what's a foodie without BBQ?
http://oldgranadastudios.com/
https://www.facebook.com/pages/Old-Granada-Studios/540234076063272?ref=ts&fref=ts
Sounds from the other city @ Islington Mill – May 4th
http://soundsfromtheothercity.com/
Back for our second year for this most fun of events – get your tickets quick!
Mississippi Blues Cruise – March & April 2014
You will not want to miss this one. The Liquorists are bring something really unique – here's what they say about it:
"Take a trip down Ole' Man River (aka the Manchester Ship Canal) for an evening of Creole cooking, tub thumping blues played live, and the finest drinks ever served on water. We will be supping on Whiskey, good ole bourbon! Old Fashioneds, Brown Derby's, Sazeracs…the finest American Whiskey, in the finest drinks, a better bed fellow for the Creole Cuisine you cannot find. And when the spirit truly takes you, our live blues will kick in! You will feel the Voodoo vibes we guarantee!"
And we're there to bring the BBQ! Once on board not only will the Liquorists be providing you with some first rate drinks, we'll be serving our special menu of BBQ treats.
These will go fast so get it booked. Ticket price includes drinks and the BBQ.
Dates are:
March
Friday 14th – 7pm
Friday 21st – 7pm
Saturday 22nd – 1pm
Friday 28th – 7pm
April
Friday 4th – 7pm
Saturday 5th – 1pm
BBC 6 Music Festival – 28th Feb to the 1st March
http://www.bbc.co.uk/events/e8gmxj
We are very excited to be at the BBC 6 Music Festival – two days off BBQ!
Valentines Day – 14th February – Home Delivery Special
We are doing take away for one night only, a Valentines night special because it's the worst night of the year to go out for dinner, so stay in, with RIBS! Head to our store page for details.
2nd, 9th, 16th & 23rd February – Altrincham Market
Altrincham
http://legacy.trafford.gov.uk/altrinchammarket/
31st January & 7th February – Camp & Furnace Friday Food Slam
Camp & Furnace, Liverpool
http://www.campandfurnace.com/2013/04/food-slam-fridays/